2016 Cub Scout Day Camp!
Cub Scout Olympics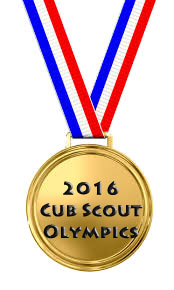 District or Area

Dates

Location

Additional Camp Information
(Parent/Leader's Guide, Schedule/Advancement, etc)

Register

Lums Pond Day Camp
2 Weeks

June 13 - June 24, 2016
Lums Pond,
Bear, DE
Lums Pond Day Camp Webpage
Register Here

Akridge Day Camp
2 Weeks

Week 1: June 27 - July 1 , 2016

Week 2: July 11 - July 15, 2016

Akridge Scout Reservation,
Dover, DE

Akridge Day Camp Webpage
Register Here

Cecil District

June 27-July 1, 2016
Elk Landing, Elkton, MD
Cecil Day Camp Webpage

Register Here

Choptank District

July 18-22, 2016
4H Park, Centreville, MD
Choptank Day Camp Webpage
Register Here
Powder Mill District
July 11-15, 2016
Granogue, Wilmington, DE
Powder Mill Day Camp Webpage
Register Here
Sussex District
July 18-22, 2016

Holly Lake Campground,
Millsboro, DE

Sussex Day Camp Webpage
Register Here
Tri-County District
June 20-24, 2016
Shads Landing State Park, Snow Hill, MD
Tri-County Day Camp Webpage
Register Here
Virginia District
July 11-July 15, 2016

Onancock Historic School
Onancock, VA

Virginia Day Camp Webpage
Register Here
What is day camp?
Cub Scout Day Camp is fun and adventure with a purpose. The Del-Mar-Va Council offers Day Camp programs at several locations throughout the peninsula. Each session runs Monday-Friday. Two of the sites offer multiple weeks of program while others are available for only one week. The camp activities are thematic, and the themes change every year. The camps are under the supervision of trained leadership and seasonal staff members. Each camp is evaluated annually to insure that the National Standards issued by the Boy Scouts of America for the operation of Cub Scout Day Camp are being upheld.
What do we do?
The program provides fun and adventure in an outdoor setting. Emphasis is placed on new experiences difficult to obtain in the usual indoor den meeting atmosphere. Day Camp encourages the participation of adult Den and Pack leaders. The daytime outdoor program could include cooking, nature, and aquatics, shooting sports, songs, skits, crafts and scout skills. The daily programs focus on Cub Scout achievements, electives, and Webelos activities as they relate to the outdoor program. Participation in Day Camp can help your pack achieve the National Summertime Pack Award.
Click Here to learn more about serving on the Day Camp staff?
Day Camp Forms (Required):
Day Camp Information Form
BSA Medical Form Parts A & B
Need assistance?? Apply for a Camp Scholarship!