Hello Scout Units,Family, and Friends of Scouting,
We are so happy you made it here to this information page. Please look around and use the tools and links we provide in effort to help your troop or pack in their fundraising venture this year.
If you have any questions or concerns please contact Meloney Dennis our Two Bays Popcorn Kernel this year at popcornkernel2bays@gmail.com.
YiS,
The Popcorn Team.
---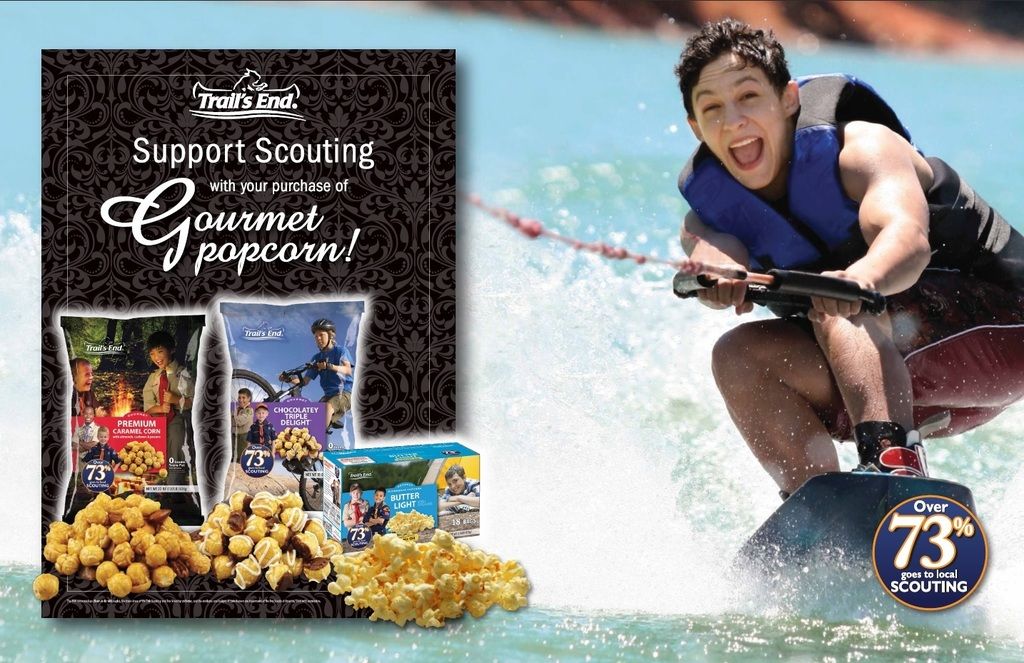 Important Dates
Sat. August 8th, 2015
Two Bays District Kickoff for Packs and Troops
Thurs. August 27th, 2015
Initial Orders are due
Sat. September 12th, 2015
Initial Order Distribution
*More Dates will be added soon
---
General Information
Why Popcorn?
The popcorn campaign is a fundraising opportunity for all units within the Del-Mar-Va Council to raise money to offset their entire year of Scouting.
The plan is that through one well organized fundraiser, a unit can fund their entire annual Scouting program.
In addition to providing funding to the units and incentives to the Scouts, a portion of the proceeds funds Council activities, trainings, and programs. (Including the Developement of Scout Reservations like Akridge)
Approximately 73% of the total sale supports the Scouting program across the Del-Mar-Va Council.
Benefits of Scouts Selling Popcorn:
1. Gain confidence by interacting with the general public.
2. Gain a better understanding of paying their own way for activities and programs.
3. Gain a greater appreciation for the importance of planning and fiscal responsibility.
4. Gain additional advancement opportunities.
Ways to Sell:
1. Show & Sell: Scouts with Leaders and Parents go to a retail location after receiving permission and sell Popcorn that is on hand on the premises.
2. Show and Deliver: This is where units pre-purhase popcorn and have their scouts go door to door and sell popcorn with immediate delivery.
3. Take Orders: Scouts go door to door taking orders for popcorn and receiving money then deliver the popcorn at a later date.
4. Online Orders: This allows scouts to sell outside their immediate area. Scouts e-mail individuals that then go to a site and puchase items through the trails-end e-commerce website.
---
Popcorn App
---
Tools for Packs and Troops (links)
---
"Popcorn Costs too much!"
Many times we hear this. "There is too little product for the price." Let us break this down then. 73% comes back to scouting.
So this means on a $10 bag of popcorn $7.30 goes to scouting while $2.70 goes to the product.
In reality the customer is donating money to the scouts future and receiving a Thank You gift in return. If you look at it this way you can see the value that this fundraiser offers in comparison to some other fundraisers.