The Del-Mar-Va Council, which includes Delaware, The Eastern Shore of Maryland and the Eastern Shore of Virgina has collected food for local food banks and pantries
as part of the Scouting for Food civic service project for many years. Scouting for Food has grown into the Boy Scouts of America's largest single-day community food drive.
Over the years, the campaign has collected 41 million pounds of food donations.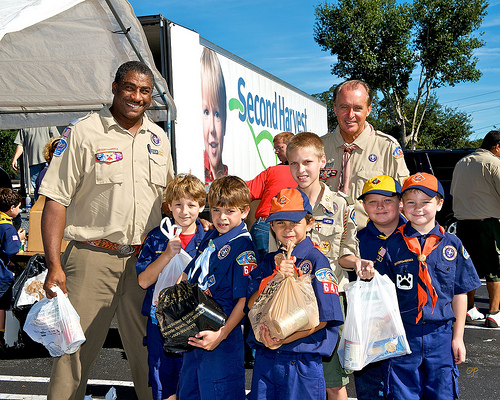 It takes a great deal of community support, planning, cooperation, desire, dedication, passion and volunteers to make
Scouting for Food the largest single-day community food drive.

Here's a look at what Scouting for Food is and how it works.
Bag Distribution Day: On March 10, 2018, Scouts throughout the Delmarva Peninsula will deliver plastic bags to residences all over the area.
During the week, community residents will "thoughtfully give," filling their bags with nutritious canned goods and non-perishable items.

Bag Collection Day: On March 17, 2018, the Scouts will retrieve the filled bags from residents and take them to local food banks and pantries,
where volunteers will box the donations.
Ingredients for Success: Through "thoughtful giving," Scouting for Food strives to deliver more than one million cans of food to area
food pantries that gain months' worth of provisions. Here's the program by numbers...
10,000 Scouts (350 Scout units)

3,500 Volunteers (Scout leaders and families)

25,000 bags

14 counties
To learn more about hunger in our area, visit the area Food Bank websites.
What items are most needed in our community? See what a "perfect bag" might look like.