_________________________________________________________________________________________
ATTN: ALL 2021 GOLD FISH DUES PAID MEMBERS MUST REGISTER FOR THE LODGE EVENTS THEY ARE GOING TO ATTEND!
------------------------------------------------------------------------------
2021
Spring Inductions Weekend
at
Henson Scout Reservation
April 30 - May 1-2, 2021
Come and join the Lodge for a weekend of fellowship, ceremonies and meaningful service projects and preparations for the 2021 Conclave!
******All attendees should bring 1 non-perishable food item for donation to a Food Pantry that is local to camp as a part of Nentego Lodge's effort to support local organizations.************
This weekend is open to those newly elected to complete their Ordeal and also to current Ordeal members who wish to seal their membership by taking the Brotherhood.
Bring a COPY of your medical Health form; Only Parts A&B are needed.DO NOT BRING THE ORIGINAL AS THEY WILL NOT BE RETURNED.
Member Attendance Fee - $20

Ordeal Candidate Fee - $70 (includes the following 2020 Lodge Dues ($20), Weekend fee ($20), Ordeal Sash ($20), OA Handbook ($4), 1 Nentego Lodge Official Flap (priceless), and Brotherhood Conversion Fee($20) is included if completed within 2 years)
Please also read the Ordeal Candidate Letter from our Lodge Chief.

**Brotherhood Conversion Fee - If you are taking your Brotherhood within 2 years of taking your Ordeal (2019-2020), your conversion fee is covered.
If you are taking your Brotherhood over 2 years after taking your Ordeal
2018 or before, you must pay the $20 Brotherhood Conversion fee.
Maryland COVID Protocols will be followed as set at the time of this event.
If you are registered for this event you will receive an email outlining what these protocols will be the week of the event.
As always with any event, please do no arrive with a fever or any other illnesses.
************************************************************
__________________________________________________________________________________________
Thank you for your interest in the renewal of your 2021 Nentego Lodge membership in the Order of the Arrow.
Nentego Lodge has two ways you can pay your dues in 2021.
You can pay your regular Annual dues of $20 or
you can become a Gold Fish Club member for $80. (see details below)
Please direct any dues related questions to our Membership Adviser at nentegomembership@gmail.com.
The Gold Fish Club
The 2020 Gold Fish Club dues are $80 and includes the regular event fees for the following:
Banquet POSTPONED
ALL EXISTING ORDEAL MEMBERS WILL BE ELIGIBLE FOR BROTHERHOOD IN 2021
Spring Weekend April 30, May 1-2, 2021 at Henson Scout Reservation
Summer Weekend June 4-6, 2021 at Rodney Scout Reservation
Fall Weekend on September 24-26, 2021 at Rodney Scout Reservation
(These dates will reflect on the council calendar as soon as the registrations come available)
Participation in the Gold Fish Club is a savings of up to $35 or more for participation in the Lodge's annual events and no event registration late fees.
**You will still need to register for each event but the fee will be removed at the time of payment.**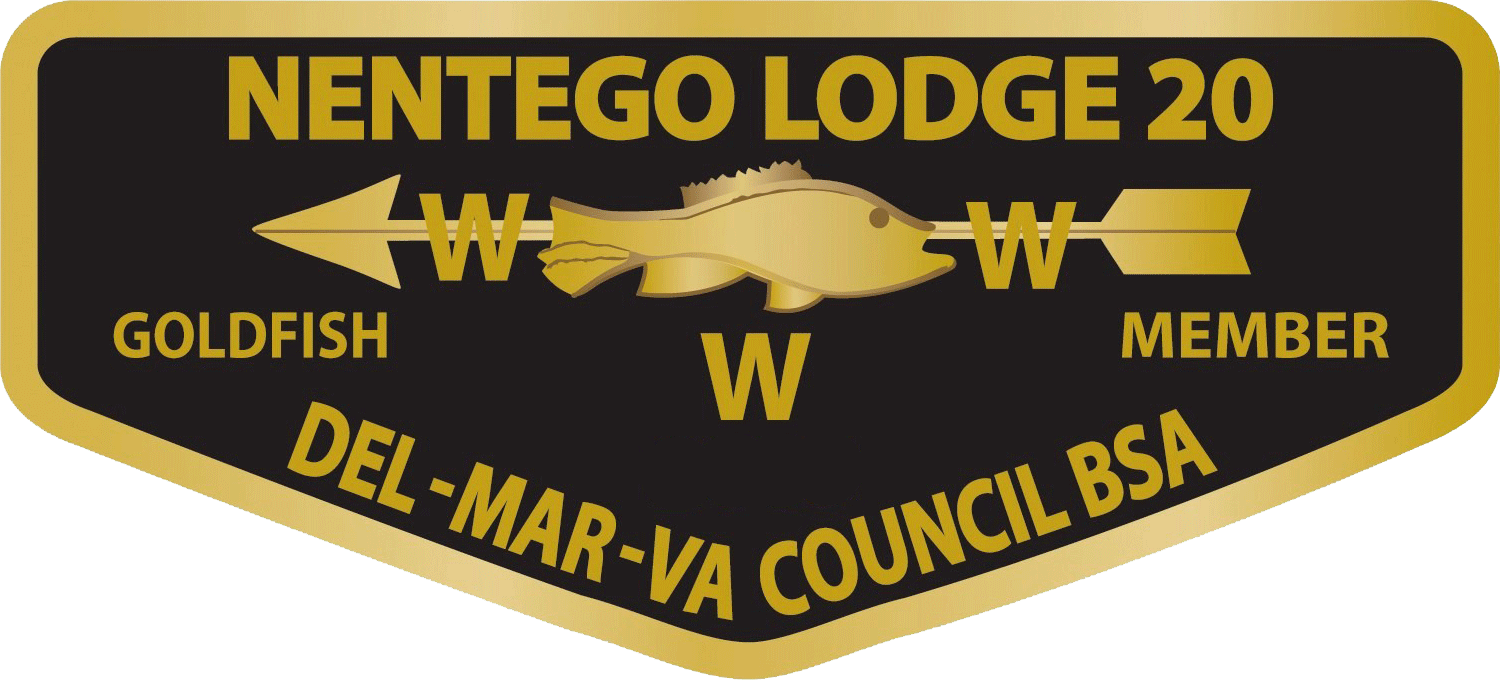 EARLY BIRD PRICES EXPIRE JANUARY 31, 2021
**If you did not paid dues in 2020 or earlier please click on the REINSTATE dues link.
If you were formerly a member of Nentego Lodge, you can REINSTATE your membership in the Order of the Arrow by clicking here!
If you were a member of another Lodge, click here to TRANSFER your membership to Del-Mar-Va Council's Nentego Lodge.
(Lifetime memberships from other lodges cannot be transferred but you can still participate in Nentego's events.)
____________________________________________________________________________________________________________________________________________________________________________________
_________________________________________________________________________________________
_________________________________________________________________________________________
---