---
---
(NEW) Just in from the national OA Web Site..........To be the "Official Ceremony" for Crossover and Arrow of Light. 7-24-2018
Order of the Arrow National Spirit of Adventure Crossover Ceremony
Order of the Arrow National Arrow of Light Award Ceremony
The National Order of the Arrow Committee after months of collaborative work with ceremonialists and lodge leadership representatives announces the following policy change. This policy change will apply to ALL Order of the Arrow lodges and chapters.
We know that lodges and chapters are frequently asked to perform Arrow of Light and crossover ceremonies for Cub Scout packs, which is an appropriate service in support of our packs. That said, we have had many complaints surrounding these ceremonies from various American Indian tribes due to the manner in which they are conducted as well as the inconsistent nature in which they are performed.
Beginning January 1, 2019 lodges and chapters that are asked to conduct Arrow of Light or crossover ceremonies for Cub Scout packs will only be permitted to conduct them using the new approved official ceremonies which can be found in the OA Inductions Portal. These ceremonies are to be conducted in a Scout uniform and are no longer permitted to be done in American Indian regalia.
We appreciate your adherence to this new policy. There will be opportunities to visit with the Inductions and Ceremonies Events staff at NOAC should you have any questions.
---
---
September 14,15 and 16
---
Please click the link above to pay your annual Lodge Dues before December 15th to avoid the late fee. Dues for the 2018 year are $20.

All lodge members are encouraged to pay their annual dues. Please continue to support the Order of the Arrow and keep your membership in Nentego Lodge active.
A Gold Fish Cl
ub
membership is also available.
The Gold Fish Club costs $80 per year and includes the regular fee for the following: Dues for 2018, the Banquet on February 10th, the Spring Weekend on April 13-15 at Henson Scout Reservation, the Summer Weekend on June 1st-3rd at Rodney Scout Reservation, and the Fall Weekend on September 14th-16th at Akridge Scout Reservation. Participation in the Gold Fish Club is a savings of up to $35 for participation in the Lodge's annual events.

As a Gold Fish Club member you will still need to register for the events but the fee will be removed at the time of payment.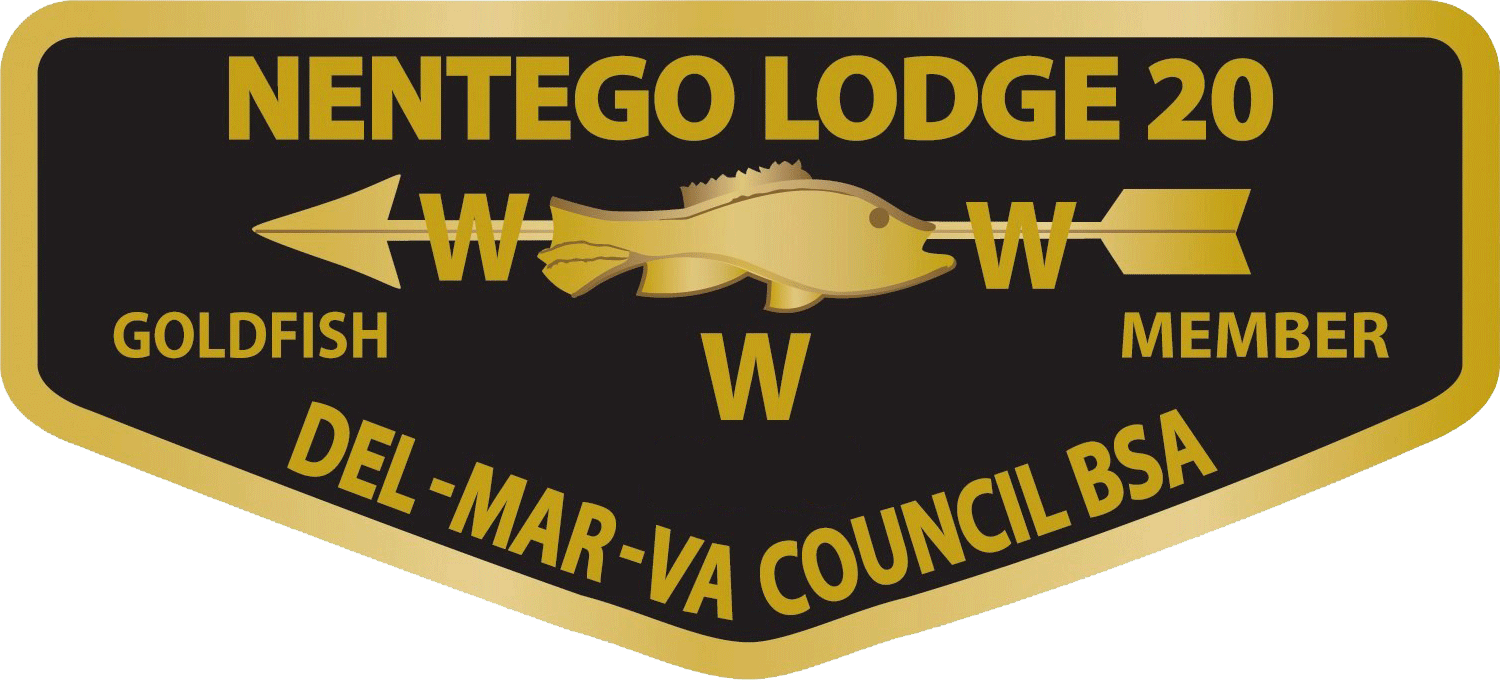 If you were formerly a member of Nentego Lodge, you can REINSTATE your membership in the Order of the Arrow by clicking here!
If you are a member of another Lodge, click here to TRANSFER your membership to Del-Mar-Va Council's Nentego Lodge.
---
---