_________________________________________________________________________________________
ATTN: ALL 2022 GOLD FISH DUES PAID MEMBERS MUST REGISTER FOR THE LODGE EVENTS THEY ARE GOING TO ATTEND!
-----------------------------------------------------------------------------
2022 Summer Inductions & Vigil Weekend @ Rodney Scout Reservation
June 3-5, 2022
Come and join the Lodge for a weekend of fellowship, ceremonies and meaningful service projects!
******All attendees should bring 1 non-perishable food item for donation to a
Food Pantry that is local to camp as a part of Nentego Lodge's effort to support local organizations.************
This weekend is open to all current members, those newly elected to complete their Ordeal
and to current Ordeal members who wish to seal their membership by taking the Brotherhood.
Bring a COPY of your medical Health form;
Only Parts A&B1&B2 are needed.
DO NOT BRING THE ORIGINAL AS THEY WILL NOT BE RETURNED.
Early Bird Camp Fees for Members - $25
Camp Fees after May 25, 2022 - $30

Early Bird Ordeal Candidate Fee - $75
(includes the following 2022 Lodge Dues ($20), Ordeal Weekend Camp fee ($25), Ordeal Sash ($20), OA Handbook ($4), 1 Nentego Lodge Official Flap, and Brotherhood Sash & Conversion Fee ($20) is included if completed within 2 years)
$80 Fee after May 25, 2022.

Please also read the Ordeal Candidate Letter from our Lodge Chief that you received at the time of your election callout.

**Brotherhood Conversion Fee - If you are taking your Brotherhood within 2 years of taking your Ordeal (June2020-2021), your conversion fee is covered.
You still have to pay the weekend camp fees of $25.
If you are taking your Brotherhood over 2 years after taking your Ordeal (Spring 2020 or before), you must pay the $20 Brotherhood Conversion fee plus the weekend camp fees.
Please email Randy Parrett at randall_parrett@hotmail.com with any food restrictions or allergies no later than seven (7) prior to the weekend.
Maryland COVID Protocols will be followed as set at the time of this event.
If registered for this event you will receive an email outlining what these protocols will be the week of the event.
As always with any event please do no arrive with a fever or any other illnesses.
*******************************************
** Nentego Lodge Dues 2022 **
Thank you for your interest in the renewal of your 2022 Nentego Lodge membership in the Order of the Arrow.
Nentego Lodge has two ways you can pay your dues in 2022.
You can pay your regular Annual dues of $20 or
you can become a Gold Fish Club member for $95. (see details below)
Please direct any dues related questions to our Membership Advisor at nentegomembership@gmail.com.
The Gold Fish Club
The 2022 Gold Fish Club dues are $95 and includes the regular event fees for the following:
2022 Nentego Lodge Dues ($20)
Banquet: February 26th, 2022, Cheswold VFD Banquet Hall ($25-$35)
Spring Weekend: April 1-3. 2022 at Henson Scout Reservation ($25)
Summer Weekend: June 3-5, 2022 at Rodney Scout Reservation ($25)
Fall Weekend: October 28-30, 2022 at Henson Scout Reservation. ($25)
Participation in the Gold Fish Club is a savings of up to $25 or more for participation in the Lodge's annual events
and no event registration late fees.
**You will also be able to purchase the special Gold Fish Flap
if you pay the Gold Fish dues by December 31,2021.**
**You will still need to register for each event but the fee will be removed at the time of payment.**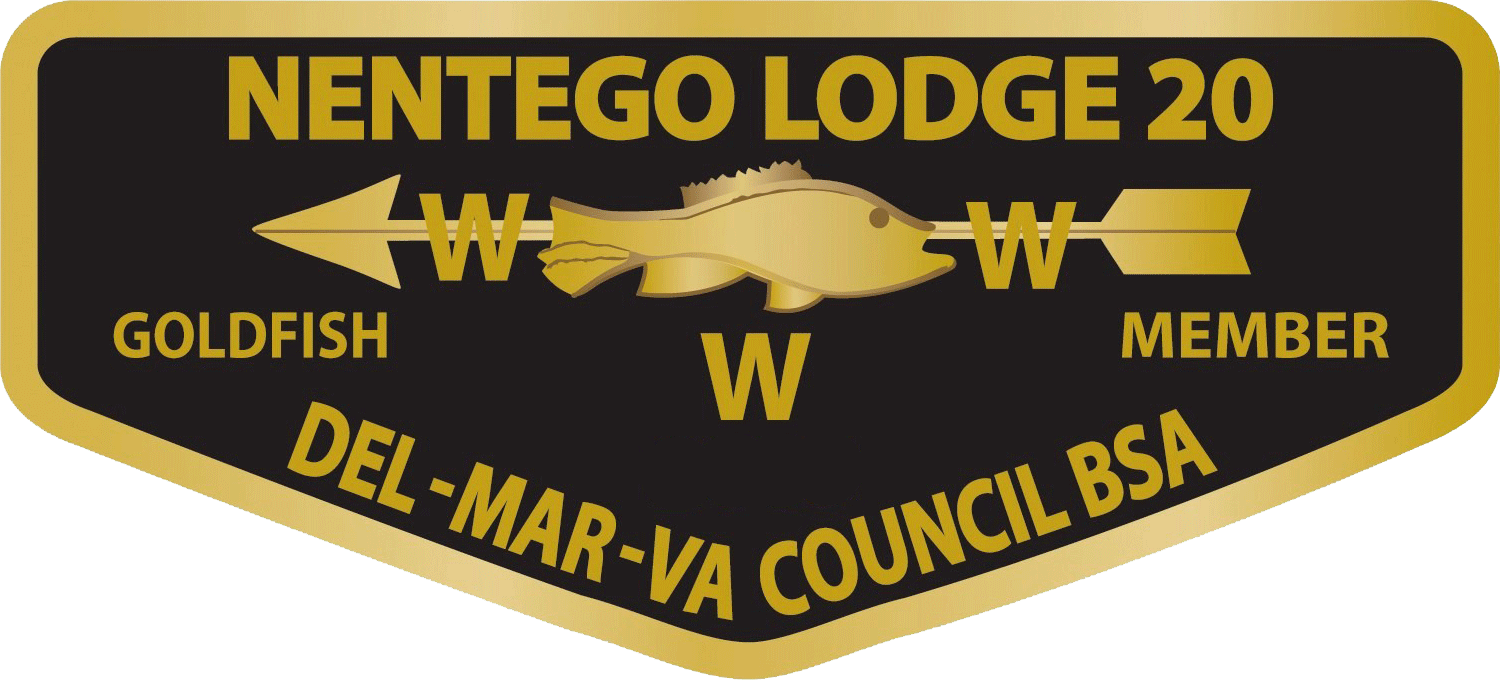 EARLY BIRD PRICES EXPIRE JANUARY 31, 2022
**If you completed your Ordeal at the Fall 2021 weekend at Rodney your 2022 due are paid but you can opt to paid Gold Fish dues if you plan to attend all of the 2022 events.**
**PLEASE DO NOT ORDER THE GOLD FISH FLAPS UNLESS YOU ARE BUYING THE GOLD FISH MEMBERSHIP. YOUR ORDER WILL BE DENIED.**
**If you have not paid dues from 2020 or earlier please click on the REINSTATE dues link.
*** If you were a member of another Lodge, click here to TRANSFER your membership to Del-Mar-Va Council's Nentego Lodge.
(Lifetime memberships from other lodges cannot be transferred
but you can still participate in Nentego's events.)
___

The National Order of the Arrow Conference (NOAC) is the premier event of the Order of the Arrow and is one of Scouting's largest national events. More than 10,000 Arrowmen from across our nation gather for an inspirational and unforgettable experience full of fellowship, training, adventure, and fun!

During NOAC, Arrowmen will participate in a six-day conference that includes top-notch training sessions, cool recreational opportunities, evening shows full of theatrics and special effects, and exciting programs.
The 2020 NOAC will be held from July 25- 30, 2022 at the University of Tennesee, Knoxville, TN. (Travel dates are July 24th and July 31st. Travel will include a trip to Dollywood)
The total cost is expected to be approximately $1,000.00. This will include the NOAC registration fees, transportation, incidentals, 10 sets of trading patches, and 1 t-shirt and 2 polo shirts.
Additional trading patches & shirts would be available at additional costs.
A $100.00 deposit is due to hold your spot.
Actual amounts due may vary based on contingent fundraising efforts and the actual cost of transportation and other expenses.
To guarantee your spot you must register by December 15, 2021!
If you plan to pay $575 by December 14, 2021, call the council office and receive a $100 deduction.
Don't miss out on NOAC in 2022, because the next one won't be until 2024! To reserve your spot in the Nentego Lodge contingent click the link below.
Austin Tuel
Youth Coordinator
Email: austintuel04@gmail.com
Scott Worsham
Adult Contingent Leader
Email: shworsham49@gmail.com
---