BSA Leave No Trace Master Educator Course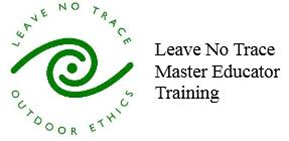 Rodney Scout Reservation, North East, MD
August 10-15, 2014
Cost: $240 (includes all meals, camp fees and educational materials)
Hiking and camping without a trace are signs of an expert outdoorsman, and of a Scout or Scouter who cares for the environment. Leave No Trace is an awareness and an attitude rather than a set of rules. It applies in your backyard or local park as much as in the backcountry. We should all practice Leave No Trace in our thinking and actions—wherever we go.
The Leave No Trace program is a tool we can use in Scouting to help teach young people about ethical decision making. Instruction and practice of Leave No Trace is integrated into the BSA advancement and awards programs, and included in the Scout Handbook and Scout Fieldbook. The Leave No Trace Master Educator course prepares the participants to instruct others in the details of the principles of Leave No Trace. Courses conducted by the BSA include supplemental instruction and discussion about implementing outdoor ethics programs in the Cub Scout, Boy Scout, and Venturing programs. All BSA registered adult leaders (age 18 or older) are welcome. A signed medical form is required, indicating physical capabilities to participate in the activities for the field experience for the course.
This six-day, five-night course trains interested individuals to serve as Leave No Trace Master Educators. Master Educators work with their council's outdoor ethics advocates to provide Leave No Trace Trainer, BSA Leave No Trace 101, and outdoor ethics awareness courses. Each BSA Master Educator course is taught by nationally designated Master Educator Instructors, so your Master Educator standing is recognized internationally by the Leave No Trace Center for Outdoor Ethics.
· Prerequisite: BSA registered adult leaders (age 18 and older) with a current BSA Annual Health and Medical Record parts A, B & C. Participants should be capable of carrying a 30-40 lb backpack a few miles each day. This course teaches advanced leave no trace skills and ethics, and assumes you are already a well seasoned and accomplished back-country camper. Basic camping skill are not taught.
· Instructed by: Nationally designated Leave No Trace Master Educator Instructors
· Participants receive: Leave No Trace Master Educator card from the BSA, BSA Leave No Trace Trainer Course Manual, Leave No Trace 101 Course Guide, Leave No Trace Master Educator certificate, and additional Leave No Trace training material.
Rodney Scout Reservation is located on over 900 acres of rolling upland woodlands at the head of the Chesapeake Bay and boasts over a mile of prime bay frontage. It has been in continuous operation since 1923. Rodney is located in Cecil County Maryland, only a short drive from I-95 and US RT-40 in the town of North East. This great location provides easy access from Baltimore, Washington, Philadelphia, Wilmington, and New Jersey.
For more information contact: Gary Lehr (302)438-7187 Email: truelehr@yahoo.com