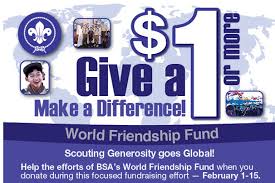 Our annual World Friendship Fund Campaign runs February 1st through February 15th. During these two weeks, please visit us and.....
"GIVE A DOLLAR (or more),
MAKE A DIFFERENCE"!
Around the World, WFF Donations have supported:
?* Building and rehabilitation of Scout Camps
*Earthquake & tsunami relief
*Funding for sanitation and transportation needs
*Ecological, handbook, and uniform projects
*And so much more.....
For more information please visit our website..
WELCOME TO THE WILMINGTON SCOUT SHOP
DEL-MAR-VA COUNCIL CUSTOMER SERVICE CENTER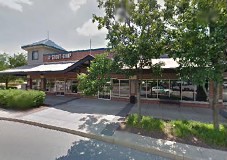 Del-Mar-VA Council
Wilmington Scout Shop & Customer Service Center
912 Justison ST
Wilmington, DE 19801
302-622-9120 Scout Shop
302-622-9141 FAX
HOURS: 8:30-5:00PM M,T,TH.F
8:30-7:00PM W
9:00-3:00PM SAT
DIRECTIONS
From the South:Take I-95 North into Wilmington
Take Exit 6 at Maryland Ave/Route 4 toward Martin Luther King Boulevard
Follow Signs to SHIPYARD SHOPS and FRAWLEY STADIUM

turn right at the bottom of ramp onto Read ST
turn right on Justison ST, pass Joe's Crab Shack on left and Chase Center on right
Wilmington Scout Shop and Council Service Center are on the left in the first Shipyard Shop Building off the Frawley Stadium parking lot
From the North:Take I-95 South into Wilmington
Take Exit 6 at Fourth ST/SR 9 toward SR 4/Martin Luther King Boulevard
Follow Signs to SHIPYARD SHOPS and FRAWLEY STADIUM

turn slight left onto N Jackson ST
Take left onto Lancaster AV DE 48 East to cross under I-95
turn right on Justison ST, pass Joe's Crab Shack on left and Chase Center on right
Wilmington Scout Shop and Council Service Center are on the left in the first Shipyard Shop Building off the Frawley Stadium parking lot
Plenty of Free, Safe, parking adjacent to Frawley Stadium