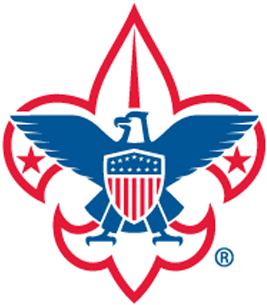 Powder Mill District
Eagle Scouts

Contact Nick Henry at (302) 622-3300 Ext. 114 for information on Scouting in Powder Mill District.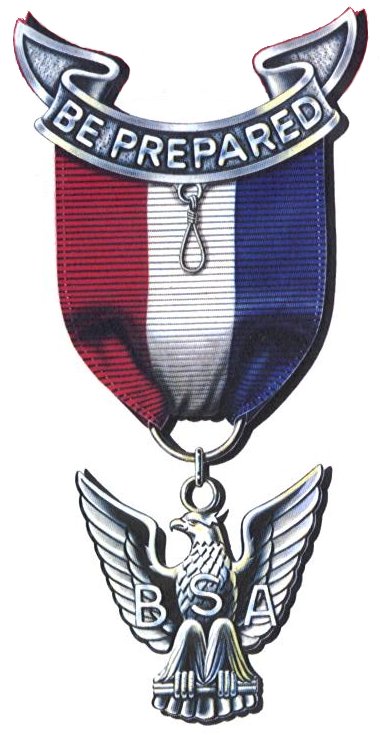 Eagle Scout is the highest rank attainable in the Boy Scouting program of the Boy Scouts of America. Since its introduction in 1911, the Eagle Scout rank has been earned by more than 2,000,000 young men. The title of Eagle Scout is held for life, thus giving rise to the phrase "Once an Eagle, always an Eagle".
Listed here are the distinguished Scouts of Powder Mill District who have earned the rank of Eagle Scout.
2014

2013

Austin Spencer, Troop 29
Michael Mariner, Troop 29
Jasper Lee, Troop 29
Christopher Owen, Troop 29
Parker Phipps, Troop 29
Andrew Tait, Troop 30
Ian Powers, Troop 33
Jelani James Smith, Troop 61
Nigel Clark, Troop 61
Ryan MacCormac, Troop 61
Cory Lousenberg, Troop 70
Nathaniel Ruhl, Troop 70
Patrick Thomas, Troop 99
Connor Michels, Troop 99
Colin Michels, Troop 99
Samuel Cutler, Troop 99
Alex Gamble, Troop 285
Mitch Stuchlik, Troop 342
Blake Sewell, Troop 430
Robert Johnston, Troop 660
Jack Vander Laan, Troop 803
Alex Adamson, Troop 803

Patrick Thomas, Troop 99
Cory Lousenberg, Troop 70
Christian Pirhalla, Troop 919
Caden Anderson, Troop 431
Kyle Carrick, Troop 29
Conor Naughton, Troop 61
Justin Freck, Troop 33
Matt Andreas, Troop 70
Christopher Durgin, Troop 67
Hunter Suchyj, Troop 29
Grant Grier, Troop 430
Carl DiStefano, Troop 33
Matthew Graesser, Troop 99
Douglas Till, Troop 522
Marcus Keith, Troop 430
Jelani Smith, Troop 61
Jonathan Wiechecki, Troop 33

2012

2011

Ben Gillette, Troop 803
Chris Ellis, Troop 30
Alex Kurtz, Troop 660
Mike Parks, Troop 61
Sam Sigmund, Troop 61
Alexis Meschter, Troop 803
David Fender, Troop 29
Bryan Harris, Troop 660
Kyle Gerhart, Troop 803
Matt Morente, Troop 33
Vincent Panella, Troop 88
Francis Conady, Troop 342
Justin Moran, Troop 527
Christopher Coulston, Troop 61
William Feuerhake, Troop 29
Brandon Cordova, Troop 29
Zachary Zinner, Troop 70
Lucas Leone, Troop 70
Gregory Dexter, Troop 33
Henry Paul, Troop 29
Andrew John Brady, Troop 919
Adam Keir, Troop 803
Michael Gibson, Troop 30
Michael Kane, Troop 919
Matthew O'Brien, Troop 29
Ben Grayson, Troop 30
Ray Holloway, Troop 522
Tucker Ellis, Troop 67
Zack Pendley, Troop 67
Luke DiGiovanni, Troop 342
Grant Evans, Troop 660
Hays Faulkner, Troop 67
Matt Stone, Troop 67
Joshua Mundy, Troop 67
Brad Smith, Troop 67
Adam Capodanno, Troop 61
Adam Desch, Troop 70
Justin Guider, Troop 30
Bryce Daniel Fender, Troop 29
George Spock, Troop 99

Brendon McDermott, Troop 61
Kaelen Novak, Troop 70
Daniel Klusman, Troop 33
Philip McGuire, Troop 919
Chester Burnett, Troop 803
Keegan Lane, Troop 99
Daniel Sheehan, Troop 62
Chris Glauser, Troop 803
Matthew Geist, Troop 803
Daniel Johns, Troop 29
Malachi Champion, Troop 29
Jack Weaver, Troop 88
Luke McNamara, Troop 29
Daulton Cox, Troop 2431
Daniel Potter, Troop 99
Chad Balback, Troop 19
Jesse Jordan, Troop 423
Jeffrey Xu, Troop 99
Anthony Lano, Troop 21
Matthew Schmittle, Troop 29
Joseph Eros, Troop 522
Patrick Reilly, Troop 33
Kevin Louie, Troop 67
Liam Berti, Troop 70
Matthew Lan, Troop 29
Bryan Bailey, Troop 70
Mark Mosley, Troop 67
Morgan Mosley, Troop 67
Harrison MacEwan, Troop 67
John Strobel, Troop 30
Kyle Garbacz, Troop 29
Patrick Fresolone, Troop 660
Thomas Walker, Troop 29
Vincent Vella, Troop 88
Peter Coyle, Troop 29
Dakota Sams, Troop 29
Matthew Singles, Troop 62
Jason Norat, Troop 342
Ryan Dias, Troop 919
Richard Lou, Troop 29
Peter Lauser, Troop 70
Samuel Bailey, Troop 70

2010

2009

Glen Thommes, Troop 342

Joseph Pytel, Troop 21

James New, Troop 803

Eric Wegner, Troop 33

Andrew Schmohl, Troop 33

Nikhil Rao, Troop 70

Marcus Miller, Troop 285

Daniel Bleacher, Troop 285

Matthew Bleacher, Troop 285

Christian Millis, Troop 19

Devin Connolly, Troop 660

Gunner Kaczmarczyk, Troop 919

Jessie McDaniel, Troop 62

Mark Distefano, Troop 33

Andrew Mason, Troop 70

Daniel Damiani, Troop 30

Jack Rotsch, Troop 803

John DiStefano, Troop 33

Kylel Savitch, Troop 527

Christopher Grasso, Troop 919

Bryson Deane, Troop 430

Andrew Hartman, Troop 61

Grant Graney, Troop 61

Joe Tise, Troop 660

Jonathan Grunewald, Troop 342

Nicholas Serpe, Troop 88

Luke Valcante, Troop 527

Jake Rosbrow, Troop 67

Carter McKennon, Troop 99

Greg Horsky, Troop 522

Joel Rice, Troop 70

Lawrence Waslh, Troop 522

Vance "Bud" Davis, Troop 527

Oliver Faulkner, Troop 67

Chris Grunewald, Troop 342

William Hartman, Troop 503

Christopher Jones, Troop 99

Conrad Kelleher, Troop 431

Benjamin Litwin, Troop 70

Joaquin Martinez, Troop 70

Daniel Meschter, Troop 803

Christopher Mitchell, Troop 255

Stephen Morente, Troop 33

Christian Muhlestein, Troop 360

Marcus Richardson, Troop 430

Brandon Spencer, Troop 29

Michael Stanley, Troop 522

Niel Sturtevant, Troop 99